Storage Port Balancer identifies overloaded storage ports and makes HBA/Host move suggestions that would rebalance the front-end ports of a fibre channel storage array.
Running Storage Port Balancer
Start by running a new Storage Portal Balancer from the Analytics home page by clickingClick the New Analytic or Run New button.

Click the Add button to select a storage array.

Select a storage array from the list. You can use the search box to find a specific storage array. Click the OK button.

Use the slider to specify the Number of HBA Swaps. The number allows you to limit the number of HBAs that can be required to be moved as part of the recommendations. The default is eight.

Select the maximum desired read and write utilization post-move. The default value is 50%. Note that the desired utilization has been set low in this example to show results.

If you click the Use Advanced Options check box (off by default), you can select additional check boxes (also off by default) to:

Avoid Ports Dedicated to Replication

Exclude Ports with No Traffic

Exclude Select Ports

If you check Exclude Select Ports, the Exclude Storage Ports screen is displayed, and you can select one or more ports to exclude.

Click the Run button.
Understanding Storage Port Balancer Results
The recommendation for the selected array(s) is displayed, with a number of HBA swaps and a projected efficiency percentage change. If a more optimal configuration was not found based on the selected parameters, a dialog box is displayed suggesting parameter changes.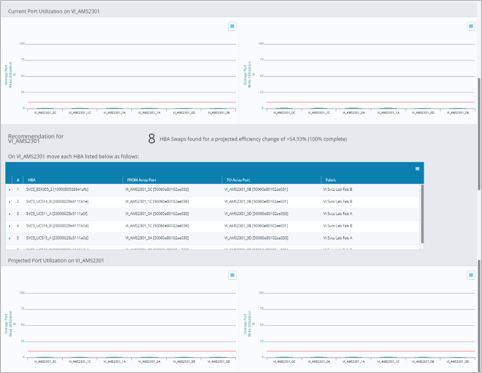 Click on the down arrow next to the HBA name to view more information about the swap.

You can save the move recommendation by clicking on the hamburger icon in the recommendations header, then exporting as a csv file or copying to the clipboard.