Use Analytics to identify issues and assess infrastructure balance and capacity.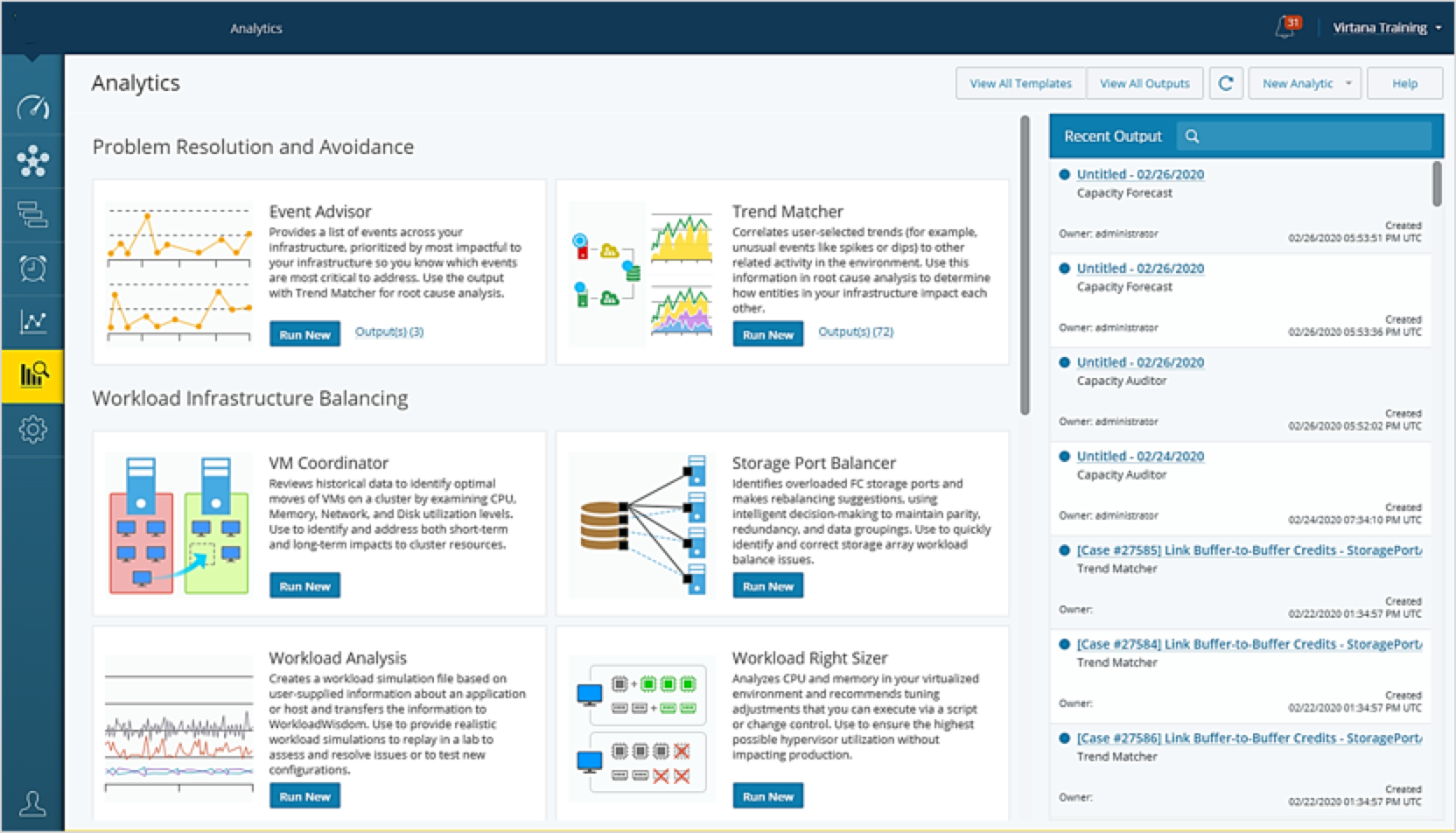 Why start with Analytics?
You have a specific problem or situation in mind, e.g., multipathing failure, buffer credit starvation, workload right-sizing, optimal queue depth settings, capacity forecasting, etc.

Alarms have not yet been configured in your VirtualWisdom environment.

You want to run the analytic on a schedule and embed results in a report or dashboard.
Using Analytics to identify critical events and correlate with trends
Analytic

Objective

Event Advisor

Use Event Advisor to find events that may cause problems in your infrastructure:

Slow draining devices

High utilization devices

Over-utilized virtualized resources

Aborts

Performance degradations

Trend Matcher

Use Trend Matcher to troubleshoot problems and perform root cause analysis:

Accepts a source trend from Event Advisor or run standalone

Provides a topology view showing entities with correlating events and matching trends
Event Advisor Suggested Situations
Run Event Advisor for the past seven days. You can save as a template and set up a recurring schedule to run Event Advisor once a week.




Using Trend Matcher to discover correlating entities and metrics
After you've run Event Advisor, you can use Trend Matcher to find correlating entities and metrics.

Using other Analytics to assess your infrastructure
You can also use the following Analytics as part of a regular infrastructure assessment process:
Analytic

Objective

VM Coordinator

Use VM Coordinator to identify optimal moves for VMs to avoid

Cluster degradation

Over-provisioning

Unnecessary rebalancing

Workload Right Sizer

Use Workload Right Sizer to

Ensure the highest possible hypervisor utilization, without impacting production

Capacity Forecast

Use Capacity Forecast to

Predict usage trends

Identify resource strain

Plan for growth

Capacity Auditor

Use Capacity Auditor to

Identify where and when capacity adjustments should be made to VMAX and Isilon storage arrays

Balance Finder

Use Balance Finder to examine HBA throughput to

Verify host multi-pathing

Mitigate the risk of fabric failure

Increase availability and resiliency