The Default Right Sizing Policy and Default Idle Resources Policy are automatically assigned to all entities in a data source when an organization is created in Cloud Cost Management (CCM) .
The default policies contain predefined parameter settings that impact the output of your reports. You can retain these initial settings or modify them. However, these default policies cannot be deleted.
Default policies are initially configured with the following predefined settings.
Default General Parameters
The General Policy Parameters for Idle Resources and Right Sizing Policies are the same, as indicated below.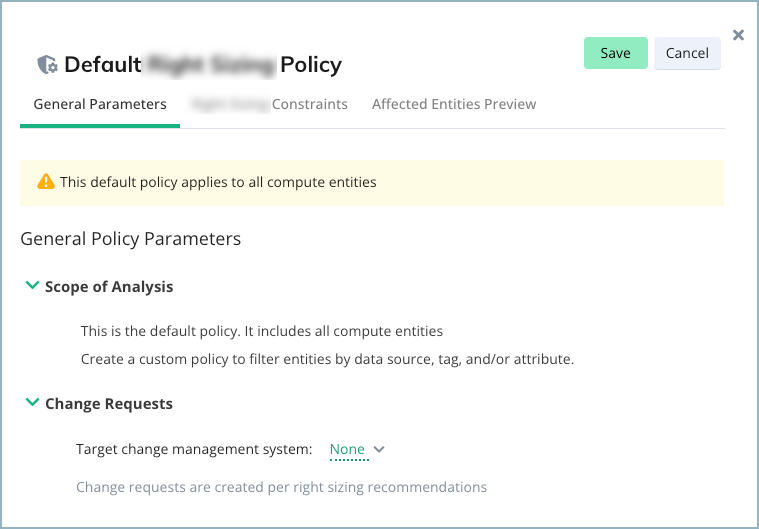 Scope of Analysis

The default policy includes all compute entities from all Cloud Service Providers. Create a custom policy to filter entities by data source, tag, and/or attribute.

Change Requests

Target change management system: None
Default Idle Resources Policy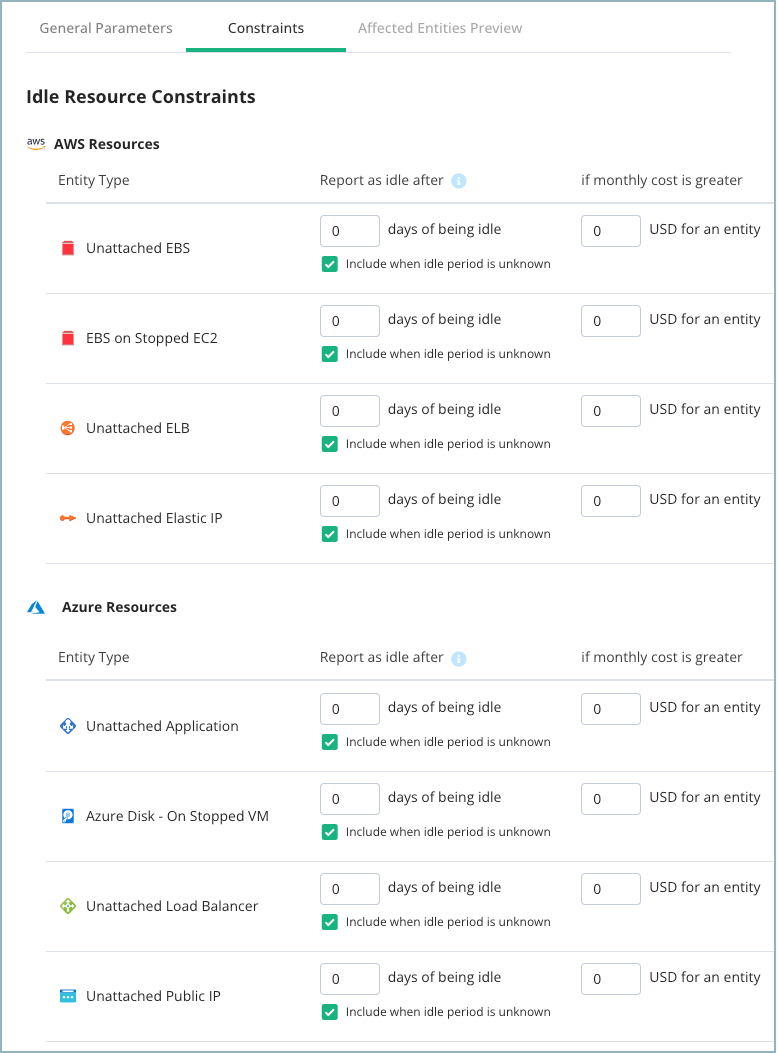 Default Idle Resources Constraints
AWS Resources

| Entity Type | Report on idle after | If monthly cost is greater than |
| --- | --- | --- |
| Unattached EBS | 0 day | 0 USD |
| EBS on Stopped EC2 | 0 days | 0 USD |
| Unattached ELB | 0 day | 0 USD |
| Unattached Elastic IP | 0 day | 0 USD |

Azure Resources

| Entity Type | Report on idle after | If monthly cost is greater than |
| --- | --- | --- |
| Unattached Application | 0 days | 0 USD |
| Azure Disk on Stopped VM | 0 days | 0 USD |
| Unattached Load Balancer | 0 days | 0 USD |
| Unattached Public IP | 0 days | 0 USD |
Default Right Sizing Policy
Default Basic Right Sizing Constraints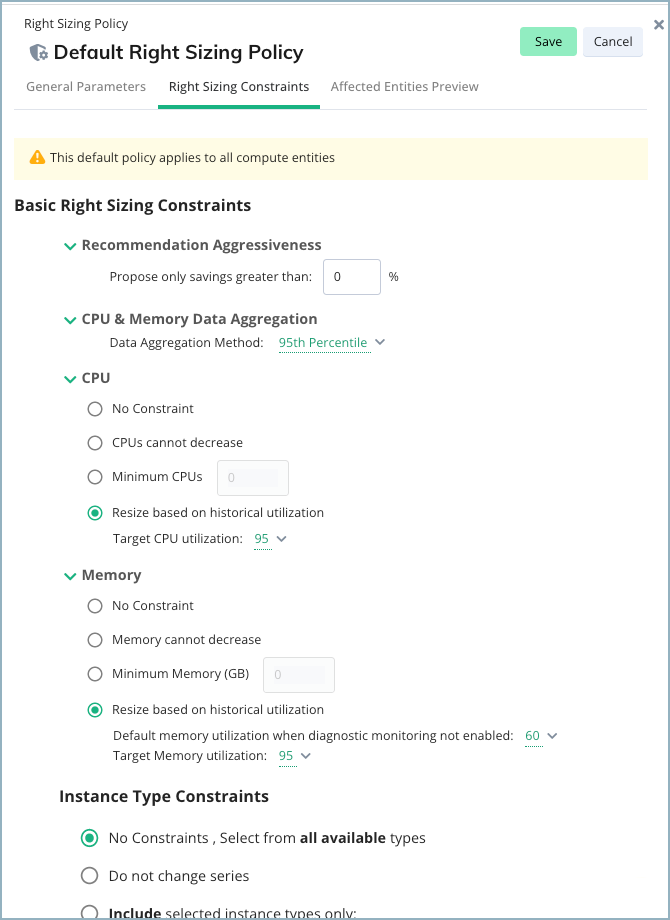 Recommendation Aggressiveness
Propose only savings greater than 0%
CPU & Memory Data Aggregation
Data Aggregation Method: 95th Percentile
CPU
Resize based on historical utilization

Target CPU Utilization: 95%
Memory
Resize based on historical utilization

Default memory utilization when diagnostic monitoring not enabled: 60%

Target Memory Utilization: 95%
Default Instance Type Constraints
No constraint,

No instance types are selected to include or exclude by default
Default Other Resource Constraints
Disk I/O
No constraint

Peak IOPS cannot decrease

Minimum peak IOPS: 0

Azure-specific: Require Premium SSD Support
Network I/O
No constraint

Network performance cannot decrease

Minimum peak network performance (Gbps): 0
EC2 Entities
Tenancy: Shared

Term Type: No constraint

Graviton CPU: No Constraint