Use the Cost vs Utilization (CvU) page to analyze cost data presented across all of your consolidated or linked accounts for Azure and AWS EC2, RDS, and S3 services. Using the tabs at the top of the page, you can move between the reports for EC2, RDS, S3, and Azure.
From this page you can view costs relative to utilization of your AWS and Azure instances. View data by instance type, CPU or memory utilization, data transfer rates, bucket size, put/get requests, compute hours, and other factors.
Each CvU report includes a graphical Summary section and a table of Cost Details for each Azure and AWS service.
Some things you can do with CvU reports:
Compare entity usage to Cloud Service Provider (CSP) cost, in total and based on instance type, utilization percentage, and other factors

Identify entities with low utilization that can be eliminated or repurposed

Locate usage spikes over varying time periods
From the Cost vs Utilization page you can perform the following actions:
Create, edit, and save CvU report settings

View CvU reports as a graphical summary or a table

Download report data as a .csv spreadsheet

Print the chart or download it in a variety of formats

Edit and save report filters

Schedule CvU reports for emailing
Summary Graph
The Default CvU report displays a bar graph that shows the total costs incurred for the integration instances monitored by Cloud Cost Management. Use this view to see the total cost of your environment relative to utilization of resources. You can also view total contributions by category.
The left-hand axis, represented by the bars on the grraph, shows cumulative cost in US dollars. The right-hand axis shows a cumulative percent contribution for utilization. The black dots represent the utilization percentage in the graph.
You can modify this view by applying a different report filter, by editing the report Settings, and by changing the time range. You can also display the top 5, 10, 20, 50, 100, 200, or 400 results or all results.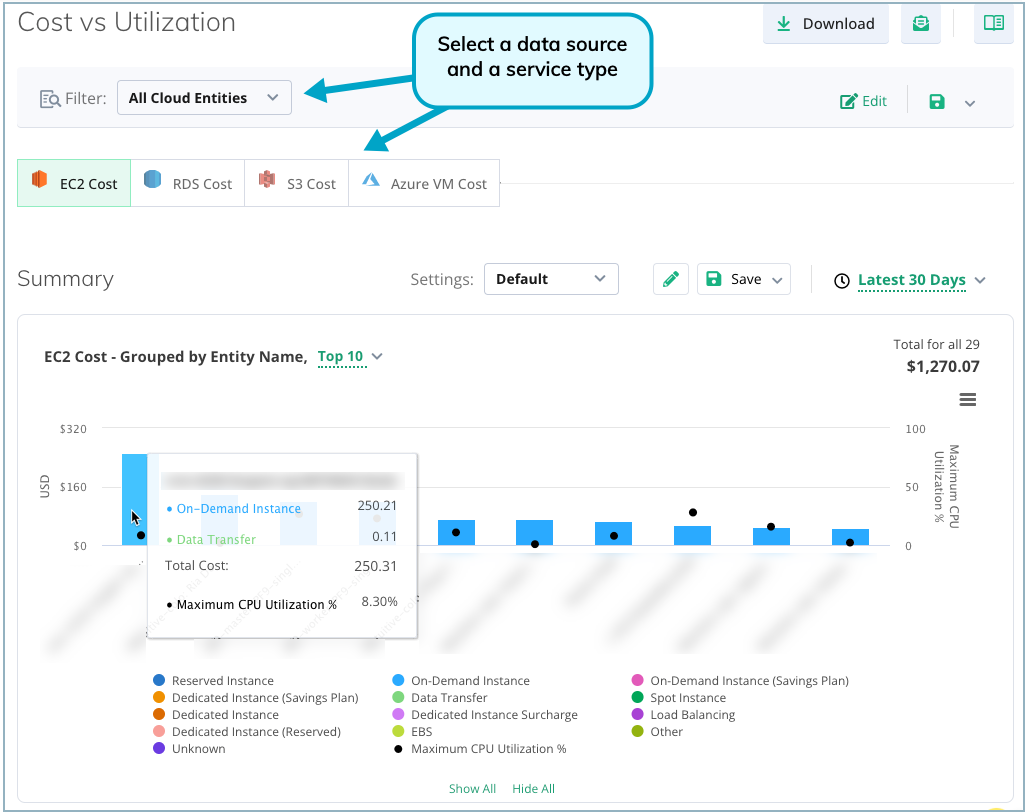 For more details specific to the AWS and Azure reports, see Description of AWS Cost vs Utilization Reports and Description of Azure Cost vs Utilization Report.
Cost Details Table
The Cost Details table provides a tabular view of the data in the graph. You can view total cost, or cost by instance type, resource utilization, data transfer, and other metrics. The number and names of columns change depending on the CSP and service type selected.

Related Topics
Cost vs Utilization Report Settings
Description of AWS Cost vs Utilization Reports