View data across all of your CSP services with the Bill Analysis dashboard and reports. This page shows all services, whether currently used or not, to provide an overall view of your cloud provider cost.
This report can include data from multiple accounts if consolidated billing has been set up and configured.
Bill Analysis helps you to do the following:
Identify cost outliers

Find unexpected cost changes

Analyze cost trends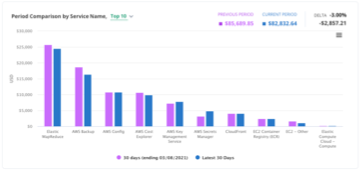 Each time you access the Bill Analysis page, Cloud Cost Management (CCM) pulls the latest available data from Cost Explorer in AWS or from Insights in Azure. This allows you to view the same data you can see on your service provider's bill, but you can group and filter the data by Attributes, Tags, Time Period (Day/Week/Month), and other settings to get a better understanding of the billing details.
Period Comparison View allows you to compare cloud spend by. For example, you can select the Group Data By option and compare the spend of any grouping against various time periods.
Stacked View allows you to analyze cost in two dimensions by using the Stack By option. This is important as it allows you to view this data in a unique way. For example, you could see a breakdown of Services by Tag1 for Chargeback.
Hover over the chart to see details about each item in the chart. There is a table below the chart that displays the same information as the chart, but in tabular format.
Note
Sometimes the settings for a report do not apply to any resources in your environment. When that happens, the report will be empty, displaying no results. If the report is set up for email, a report might not be sent.
Related Topics